Having graduated from the Cardiff University after studying Computer Science, Austen Wells was invited to join Informed Solutions as a Technical Consultant on its Graduate Programme.
Here, Austen talks about his journey through the Informed Solutions graduate programme, navigating early career challenges and opportunities on a road to personal growth.
Why Informed?
I have always had a strong interest in technology and problem-solving since a young age, which was my main motivation for studying Computer Science at Cardiff University. During my studies, I developed my technical and non-technical skills, exploring the disciplines of Security and Forensics.
On finishing my degree, I was unsure which industry I wanted to work in, however, I knew I wanted to do something that would make a positive difference to the world. I was drawn to the Informed Graduate Associateship programme because I believed it would enable me to build on my skills and discover where my strengths lie by trying a variety of roles within the digital sector. I also liked the idea that the programme would allow me to explore which disciplines spark my interest, allowing me to get a taster of the type of workstreams and specialisms I enjoy most.
Developing New Ways to Connect and Collaborate
Having been fortunate enough to be accepted on to the Informed Graduate Programme, I joined during the COVID-19 pandemic, just before one of the lockdowns re-commenced. For my first three days at the company, I was fortunate enough to work co-located in our HQ in Altrincham. I was given a warm welcome by a number of colleagues, with a detailed induction plan to help me find my feet during my first few weeks.
Shortly after I had joined, lockdown re-commenced with strict social distancing rules and the requirement to work fully remotely. Whilst the world adjusted to this new way of working, I had initially found it difficult to get to know my team and had to find a new method of retaining the same level of interaction and collaboration that comes with working with others in a busy office.
Unfortunately, it was not possible to meet my team in person until a few months into my time at Informed, when restrictions had eased. This period of mandatory remote working was difficult for me to navigate as having grown up in a large family, I am someone who likes being around people and enjoys socialising in-person. While it was hard to match this over online calls, everyone at Informed continued to support my integration. We held team catch-ups to share updates with each other about our priorities and focuses each week, ensuring to maintain a collaborative culture and providing a channel to raise any concerns or request support. Our companywide 'ShoutOut' meetings were also a great way to keep up to date with the latest company developments, meet new joiners, and recognise both individual and team achievements.
Building Relationships – Face to Face!
Having managed to navigate the difficult COVID period, once lockdown restrictions had ended, I was delighted to have the opportunity to spend time with my colleagues in Manchester and London and share fantastic moments together, such as our 30th Anniversary Celebrations, events to welcome our new placement students and to recognise our accomplishments.
I have also subsequently taken part in team and companywide socials including mini golf, go-karting, bowling, and picnics in the park. I have appreciated these moments as a valuable opportunity to connect with colleagues from across the company, build relationships outside of workplace settings and enjoy some well-earned rest and recuperation!
I am now fortunate enough to consider some of my colleagues to be great friends, and I am thankful that we can connect regularly outside of the office as well as work together to produce innovative solutions for our clients. I am also very thankful to be able to work co-located with my colleagues once again, as within a few footsteps I am able to have a conversation, contribute towards, or adapt a solution with others.
The ability to maintain a similar collaborative culture during a time of mandatory distancing and isolation, as well as fostering a culture that places mutual support and collaboration at the forefront, is part of what makes me truly proud to work at Informed.
Bedding Into the Culture
It is clear to me that the culture at Informed is defined by its people. As our teams are comprised of individuals from diverse backgrounds, specialisms and levels of seniority, our culture embraces differing opinions and viewpoints, providing a respectful environment for them to surface. This is what I believe allows Informed people to be truly innovative.
We also look out for and support each other in numerous ways. One example of this is our buddy programme. As well as having my own buddy when I first joined, I have also been a buddy to newer colleagues, paying forward the support that more experienced staff afforded me. Not only does the assignment of buddies give new starters a point of contact and support whilst settling in, but it also provides a channel to ask any questions about the company, whether they be technical or general!
Furthermore, I have also benefitted from the Informed coaching programme, which offers everyone access to a more experienced colleague to help them learn and develop and in my case, help guide me through the initial steps into the working world. I found this extremely valuable as it allowed me to develop a focused direction in my career, helping me to identify the skills I wanted to strengthen and a plan to achieve my goals.
Personal Growth
Informed Solutions maintains a culture driven by learning, support, and collaboration and I personally believe that this allows us to bring out the best in each other. Through no fault of the business, the initial isolation I felt was a tough start to my career, but I couldn't have asked for better support from my first day onwards. I believe I have grown not just professionally but personally thanks to the care of my colleagues.
By working collectively to achieve our career goals, advance our culture and ensure that we support one another, Informed continues to foster an environment where we are able to deliver complex, innovative, world-leading solutions to our clients. Ultimately, I find that this aspect of the graduate programme is the one that I have valued the most.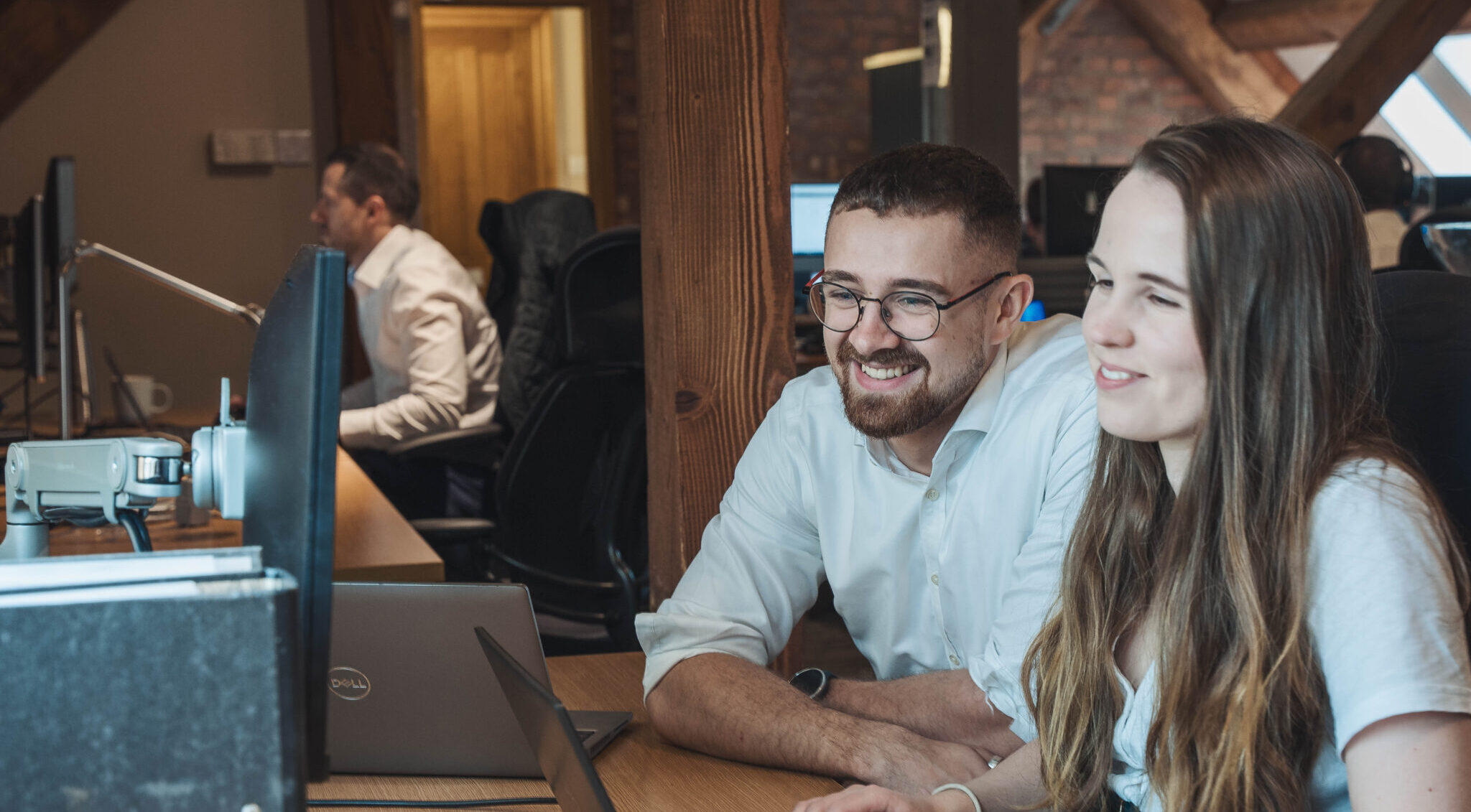 Become Informed
Do you want to develop, grow and be rewarded at a Great Place to Work®?