Graduate Associate Jacey Hesketh started her career in a laboratory after completing a Masters in Chemistry at the University of Manchester, before channelling her skills and experience to pivot into tech.
Here, Jacey talks about her transition into tech consulting and how her experiences from the world of science provided key parallels and a great foundation to move into digital.
During my time at University, I developed skills predominantly in the laboratory, measuring and modelling compounds, as well as testing hypotheses. Based on this, I began my career at a company that specialised in bioanalysis, with my role primarily involving the production of bioanalytical reports and quality checking of data.
Whilst I enjoyed my time in this field, I had always been more passionate about the computational side of chemistry and using technology to model data and solve problems. My interest developed following a number of modules that I undertook at University on clean energy and MATLAB – a programming language and numeric computing environment.
A Non-traditional Route Into the Tech Sector
When exploring the opportunities available for me to work within tech and digital transformation, I was drawn to Informed Solutions Graduate Programme because of the important projects they choose to work on and the real world problems they are trying to solve. There is a perception that strong credentials in the computer science space are required to pursue a career within the industry, however I discovered that this was one of many myths about the tech sector. There are in fact multiple skills that you gain from completing more scientific degrees which provide a strong foundation for a career in digital.
When joining Informed, I found that my transition onto the graduate programme was very smooth due to the extensive training in place and the supportive nature of the teams I was placed into. Whilst I didn't come from a computer science background, I have still been given the opportunity to be trained in and try any roles that I expressed an interest in.
Through our InformedACADEMY talent development framework I have attended various masterclasses covering a broad range of topics such as delivery management, coding, user-centred design and soft skills such as communication in the workplace. These were aimed to help me on my journey and they ensure everyone gains exposure to a base level of knowledge about each of the disciplines at Informed.
Implementing Transferrable Skills From My Background in Chemistry
Something I have been involved with across multiple projects at Informed is testing of our digital services. Testing is a huge part of chemistry, for instance testing hypotheses for research studies. I was able to use this previous experience when testing new functionality in a digital context, aiming to trial several different methods to identify any bugs within technology systems and document findings.
My experience working in a regulatory bioanalytical lab was also beneficial as this required strong attention to detail to work to stringent quality standards and pass regulatory inspections, much like when testing new digital functionality, ensuring that technological standards and best working practices are followed, and that the service matches initial designs.
One of the most important factors to me personally when it comes to my career is the ability to contribute to solving complex problems. I discovered this at University, working on a project aiming to understand the properties of certain compounds central to the separation processes involved in recycling nuclear waste. Whilst I was working on a small aspect of this research, I found it hugely rewarding to know it could contribute to making nuclear energy a greener option.
Similarly, working at Informed has allowed me to work on large, complex and critical digital projects that are focused on making a difference to and improving people's lives, as well as our environment. This is one of my most valued things about working at Informed Solutions, knowing that your work truly has a positive impact on our world.
What I've Learnt on My Journey So Far
Reflecting on my experience has shown me that you can develop, thrive, and succeed within tech consulting from a multitude of different pathways, and that my journey is far from unique.
As a graduate I have already had the opportunity to be a part of multiple project teams at Informed and experience different roles across these, and that has allowed me to collaborate and engage with a wide selection of colleagues who come from a variety of different educational and career backgrounds.
Our user centred designers, developers, engineers, and researchers all use their own distinct experiences to forge relationships in this digital space, working together seamlessly and flexibly to produce complex solutions for our clients.
As I look forward to continuing my graduate programme at Informed and being a part of new and exciting projects in the future, I would encourage anybody with a passion for tech and digital to pursue a career in the industry and find your own unique space to flourish.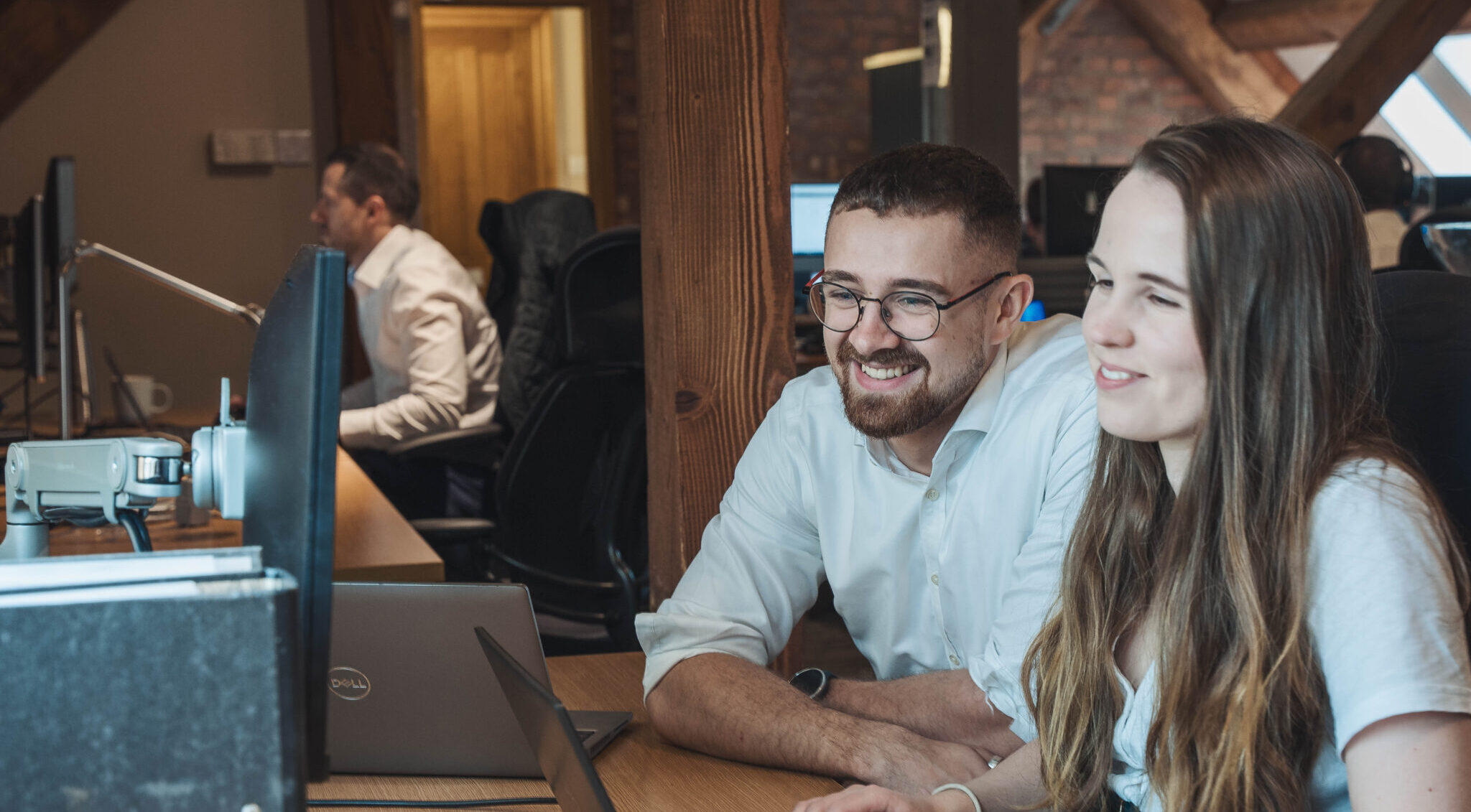 Become Informed
Do you want to develop, grow and be rewarded at a Great Place to Work®?